You've seen people naked. Quite an auspicious opening line, eh? Anyway, you've seen people naked. And photos of your favorite celebrities fully clothed are few and far between. But when your favorite celebrity poses nude, there's always a bit of shock value. It's the forbidden fruit, the guilty pleasure of seeing the uncommon.
The same might be said for seeing our favorite vintage stars in color. When it comes to Laurel and Hardy, I must admit that there is nothing quite so cool as to see the boys in living color. Probably the simple reason for this is that there are so few photographs and so few reels of film that show them in this fashion. I'll never forget one time back in the mid-nineties a member of the Sons wrote to me inquiring about my tent newsletter Dante's Info. He had heard that I had printed color in a couple of issues and was interested in getting copies of these particular volumes. He was not interested in the content of the newsletter, nor of what the color photos in question even were; the fact that I had used color at all was enough for him.
Laurel and Hardy began their flirtation with color early in their career when at least two of their silent comedies, The Second Hundred Years and Leave 'Em Laughing were toned with an amber and blue shading (often indicating light and night, respectively). The toning process differed from tinting in that the whole film is bathed in a color solution as opposed to the latter process, by which colors are applied to individual frames of the already-exposed film. Tinting may be observed in the 1903 film The Great Train Robbery in which explosions were tinted red and orange. These processes gradually faded out as the 1920's came to a close.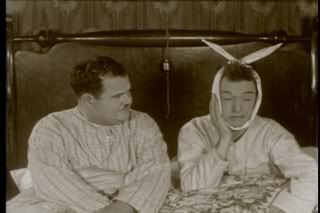 The most primitive (real) color process came to fruition in 1911 but it was not until the development of the two-color Technicolor process that the use of color in Hollywood films became commonplace. This early process involved welding together two thin layers of film, one red-orange and the other blue-green, after they were exposed and dyed. Often this color process was used as a novelty and was only used in a portion of the finished film. Wheeler and Woolsey are seen in color in the final reel of Dixiana (1930), for example. Of interest to buffs of the boys, three scenes including the finale of Hollywood Revue of 1929 were filmed using the two-strip Technicolor process. One scene features an assemblage of the cast performing the final number, Singing in the Rain, together. . . but unfortunately Stan and Babe are not among them.
1930 saw the release of the Lawrence Tibbett operetta The Rogue Song which was filmed entirely in two-strip Technicolor. After previewing the film, it was decided that it was necessary to add some comic relief so Laurel and Hardy were loaned to M-G-M by Hal Roach, who came along to direct their scenes. The boys scenes comprise approximately 15 minutes of the nearly two-hour movie. Frustratingly, all known prints of The Rogue Song have vanished without a trace. Several elements of the film have resurfaced including roughly ten minutes of footage in which the boys do not appear, as well as the original theatrical trailer (minus sound) in which they can just be glimpsed. Of utmost interest is an additional three-minute sequence that does primarily feature Stan and Babe. Unforunately, for the majority of the footage, the boys are inside of a cave…at night.
The extra added expense of filming in this process and the fact that the novelty was wearing thin, precluded the use of color in the vast majority of films from 1932 until the use of a new, and much superior, process using three-strip Technicolor made its feature film debut in Becky Sharpe (1935). (Several members of the Our Gang can be seen in the one color reel of Eddie Cantor's 1934 film Kid Millions in an early usage of the three-strip process). Animation was an exception to the rule as the pioneers at Walt Disney Productions continued to apply color to a handful of their Silly Symphony cartoons. Disney was also called upon to produce an short animated film entitled The Hot Choc-late Soldiers to be used within the all-star M-G-M vehicle Hollywood Party (1934). Once again a Laurel and Hardy film used color. . .but without our boys.
Color did not become the rule instead of the exception until the 1950's, but certainly the use of color in such films as Gone With the Wind and The Wizard of Oz, both released in 1939, was not exactly a novelty by this point. Stan and Babe continued to work in films until 1945, and in an additional film in 1950 – and none were filmed in color. . . with one exception. The Tree in a Test Tube provides perhaps our best look at the boys in multi-chromatic format. Produced for the non-theatrical market, The Tree in a Test Tube was a propaganda one-reeler shot in 16mm Kodachrome Color in 1941. The kicker is that most circulating prints of the film are badly duped, faded, and incomplete. However, should you be fortunate enough to view an original-release print, you will see the boys in crisp, vivid color. (This version has recently been included on the second volume release of the boys' films from Twentieth Century Fox)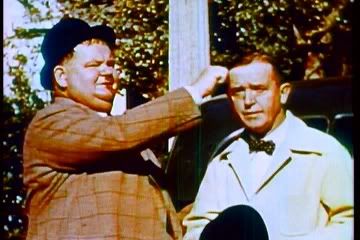 Perhaps of utmost frustration to color fans are some of the projects that might-have-been. Hal Roach didn't produce his first color film until the streamliner comedy-musical Fiesta in 1941. Rumors do persist, however, that at least two of Laurel and Hardy's Hal Roach features were intended to be shot in color. Babes In Toyland (1934) was one likely candidate. Those on the set remember the town of Toyland painted in bold, bright colors indicating the initial intention to film in color. Perhaps the process wasn't available to Roach, or perhaps it was just too darn expensive. Whatever the case, it didn't happen.
Della Lind, who starred as Anna Hoepfel in Laurel and Hardy's 1938 feature Swiss Miss, claimed her whole life that Swiss Miss was entirely filmed in color. A 1988 letter from Della states "It is too bad that the color film of Swiss Miss has vanished. Now only bad copies of black and white are shown." It has been speculated, if there is any truth in her statement, that color test footage may have been shot, or even perhaps that the film was filmed in Technicolor but only printed in black and white. Conjecture, at best.
One film that was written with Laurel and Hardy in mind to play the comic relief roles was the lavish Technicolor musical Two Tickets to Broadway. Unfortunately, running months behind schedule during the filming of Atoll K in France precluded the boys' involvement. The film was made with their parts rewritten for Vaudeville comics Smith and Dale. Throughout the 1940's there were numerous proposed projects for Laurel and Hardy that were ultimately shelved including an updated version of Robin Hood, which would have been a likely candidate for a color production. But of course, it never happened either.
Perhaps most tantalizing of all was the proposed television series to be produced by Hal Roach Jr. entitled Laurel & Hardy's Fabulous Fables. Each of the four one-hour specials would feature the boys in roles from popular fairy tales. And you guessed it, they were to be broadcast in color. A script treatment for the first episode Babes in the Woods (likely to have been released under the title Boobs in the Woods) was completed by Stan – but ten days before shooting was to begin, Stan suffered a minor stroke, delaying the production. NBC announced that the specials would be part of their 1956 Fall schedule, but then Babe fell victim to a debilitating stroke and the team were never to work again.
Finally, it should be noted that at least two home movies are known to exist which depict the boys in color. The first is a silent 16mm Kodachrome film of The Hollywood Victory Caravan tour from 1942. Several of the touring stars can be glimpsed, among them Laurel and Hardy performing their Drivers License Sketch. Another color home movie was filmed in 8mm in the backyard of Stan's daughter Lois by a visiting fan. As it turns out, this 1956 footage was the last ever taken of the boys together and it was dubiously released to the home movie market as Stan Visits Ollie. Additionally, there exist numerous color home movies of Stan Laurel during the 1960's taken during his retirement period, mostly filmed at his Oceana Apartment home.
As a postscript, the existence of Colorization has afforded us a novel alternative to viewing the boys in black and white. Often colored in pastel-like shades, the films resemble gigantic moving lobby cards. Although generally pleasing to the eye, these computer colored films offer little solace to those fans who pine to see real color footage of the boys. But any Laurel and Hardy footage is still better than your naked stars.