These letters were recently revealed on the DVD release of This Is Your Life. Although commonly accepted that the boys (especially Stan) did not enjoy the experience of the show, these letters indicate otherwise. If Laurel and Hardy were less than thrilled about appearing on the program, the notes penned to host Ralph Edwards afterward indicate their immaculate professionalism.
SANTA MONICA, CALIF.
December 15th. '54
Ralph Edwards Esq..
"This Is Your Life"
HOLLYWOOD. 28.CALIF.
My Dear Ralph:-
Many thanks for yours of the 13th. inst. with enclosure of Fan Mail.
I am really at loss for words Ralph, to fully express my thanks for the wonderful tribute you paid us, but do want you to know we felt deeply honored & sincerely appreciated your kind thoughts, deeds & wishes, & are very grateful for the very happy memory.
Please convey to your wonderful Staff our admiration for their thorough efficiency & thanks for the extreme courtesey extended us. Mrs. Laurel joins in every good wish to you & all for a very Merry Xmas& a Happy New Year. Thanks again Ralph. Sincerely always:-
Stan
Stan Laurel.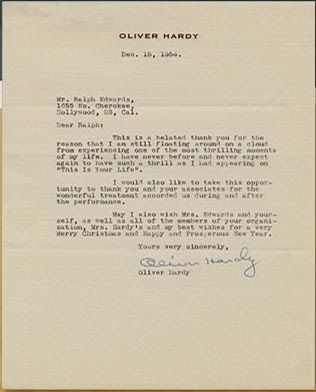 Dec. 15, 1954
Mr. Ralph Edwards
1655 No. Cherokee
Hollywood, 28, Cal.Dear Ralph,
This is a belated thank you for the reason that I am still floating on a cloud from experiencing one of the most thrilling moments of my life. I have never before and never expect again to have such a thrill as I had appearing on "This Is Your Life".
I would also like to take this opportunity to thank you and your associates for the wonderful treatment accorded us during and after the performance.
May I also wish Mrs. Edwards and yourself, as well as all of the members of your organization, Mrs. Hardy's and my best wishes for a very Merry Christmas and Happy and Prosperous New Year.
Yours very sincerely,
Oliver Hardy
Oliver Hardy